Disneyland Paris 25th Anniversary Merchandise
Some of the Disneyland Paris 25th Anniversary merchandise has been released in Main Street shops/World of Disney and images are starting to appear on twitter. The designs so far are split into a few distinct ranges – one more silver/gold reflecting the 'time to sparkle' subtitle of the anniversary, a logo/25 based range, a 'discover the stars' range and a steampunk '25 years of stars' range. Unsurprisingly, the focus is mainly on the fab five and Tinkerbell who is the anniversary's mascot. It's a wide range covering clothing, mugs, pins, magnets, bags, puzzles and a special book/CD to mark the anniversary. This large image has been posted showing some of the items that are available: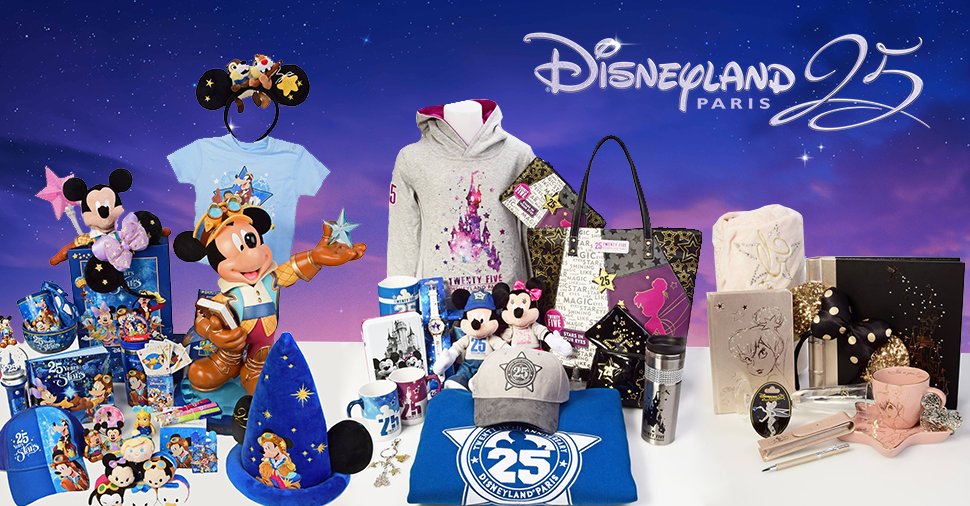 I really appreciate  how unified the design and theming is over the various ranges drawing on a few shared design ideas. Let's take a detailed look at some of the items, from pictures shown on twitter, and various websites.
These collectables show off the steampunk designs that the characters are in for the Anniversary. Personally, I love some of the designs  – Donald in particular really grabs me. Most of the 25th merchandise that's character focused has some variant of these designs on them which works really well. The '25 years of stars' range is really visual and ties in quite nicely with the other range. It's also a good selection of merchandise.
✨Beautiful 25th Anniversary "Black and Gold" collection: gold ears, shirts, champagne glasses ✨ pic.twitter.com/eTnIgUT92O

— ED92 (@ED92live) February 21, 2017
The black and gold collection is something a bit new for Disneyland paris but I absolutely love the style. In ways it's a little more understated than the bright blue and pink of the regular anniversary merchandise and brings some much needed sparkle. While I'm not the world's biggest tink fan I understand why she's all over this selection of the merchandise. And i have to have those ears!
Disneyland Paris 25th Anniversary Pins preview ✨2/2 pic.twitter.com/QkwSyCImwz

— ED92 (@ED92live) February 26, 2017
Pins! I think these are absolutely fantastic but my favorite one is Tinkerbelle on the main street lamps. I think they are beautiful, intricate, and well designed. Disneyland Paris isn't always well served on the Pin front but these are a great draw for collectors. The big surprise, for me anyway, is the lack of an Aurora pin. Given that it's her castle and she's the central character for the new princess stage show this seems like a pretty big oversight. Plenty time to remedy that though.
Disneyland Paris "Twenty Five" sporty collection: pic.twitter.com/yujqFJdVqz

— ED92 (@ED92live) February 21, 2017
I really like the colors they've used for these and the simplicity of the designs. I've seen other bits of merchandise with this '25' logo on it and it's a good, understated, design. I know a lot of people are fond of the Disneyland Paris loungewear/hoodies so this is a good shout.
Bits of the 'explore the stars' range have made it to the shops and, personally, this is my favorite of the character focused designs. I like the use of colour and Donald's costume is fantastic. While it's not on anything particularly exciting it's a good design.
The co-host of the 25th Anniversary: Tinker Bell (Figurine €49) pic.twitter.com/arlr31TYV4

— ED92 (@ED92live) February 21, 2017
This Tinkerbelle statuette looks similar to the one's that are meant to be perching on the lamposts of main street. I think that's a great marketing stroke – a lot of people are going to want to take home a bit of the decorations and this is a nice way to do it. I like her 25th Anniversary costume too. I'd expect a lot more of tinkerbelle in this design in the next few months – we know there's a plush coming at least.
The Disneyland Hotel shop-windows have received 25th Anniversary items including this wonderful Mickey figurine, yours for €219 pic.twitter.com/aAW208mO8b

— ED92 (@ED92live) February 23, 2017
These are the things i'm most excited for! Disneyland Paris doesn't really have it's own, exclusive, set of tsum tsums and getting some for the Anniversary is fantastic. The designs are adorable and I can't wait to pick up a set. The Mickey and Minnie exclusive plushies are pretty cute too.
I think we can safely expect more merchandise as we get closer to the Anniversary but Disneyland Paris have done a great job in getting this stuff out as early as possible, in a wide range, and making it eye catching. This is a great opportunity for the resort to continue making progress and it's fantastic to see them capitalising on it. Such a wide range of items means there's a large appeal and a lot of people's bank accounts are going to be unhappy after their Anniversary trip.
What is your favorite bit of merchandise? Anything your going to pick up? Anything missing? Let us know in the comments.